How to Choose the Right Size Electric Skateboard Knee Pads
About Electric Skateboard Knee Pads
Skateboard knee pads are crucial to protecting you during wipeouts or falls. Knee damage is one of the most common esk8-related injuries, which is why knee pads are one of the most important types of skateboard pads. Especially if you're skating straight ways or downhill, electric skateboard knee pads are a must. This is a serious sprt and you need serious protection.
Skateboard knee pads are made of stretchy cloth material that attaches around the back of your knee with adjustable Velcro. The cap of the knee pad features either foam, a hard plastic shell or Kevlar to shield your knee from impact. Riders of all ages and experience levels should invest in knee pads to avoid wrecking their knees.
Knee pads are sold in sets of two, but are often also sold in combo packs that feature elbow pads and wrist pads. Nobleman carries a variety of knee and elbow pads to suit your personal style. From Generation two knee pads, Generation 3 Kevlar Knee Pads (Foo Dog), to Ultra Slim Knee Pads We got it all for you. Also check out our website for all the collection. (You can get an awesome deal on it.)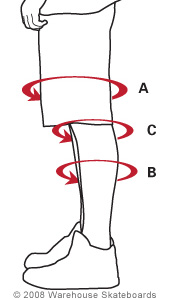 Properly measuring for knee pads
Well-fitting skateboard knee pads should not restrict your range of motion, which is why it is important to buy the right size knee pads. Knee pads that are too tight will be uncomfortable and will limit your ability to bend at the knee. To make sure you buy the perfect knee pads, follow the stops below to properly measure your legs:
1. Wrap a soft tape measure around the center of your knee. Measure around your outstretched leg, either at the middle of your knee (C), at the top (A) or at the bottom of your leg where the pad will rest (B).
(Check our product images for an accurate measurement and how to measure for the specific pads)
2. If you do not have a flexible tape measure, try marking a string and measuring it against a ruler.
Skateboard knee pad sizing charts
| | | | | |
| --- | --- | --- | --- | --- |
| | Small | Medium | Large | X-Large |
| Weight | under 125 lbs. | 125 - 150 lbs. | 150 - 180 lbs. | 180 lbs. + |
| | | | | | |
| --- | --- | --- | --- | --- | --- |
| | Junior | Small | Medium | Large | X-Large |
| Center (C) Measurement | Fits Juniors | 12" - 14" | 14" - 16" | 15" - 17" | 17" - 20" |
Check out our selection of protectors
---