How to Choose the Right Electric Skateboard Helmet Size
The importance of electric skateboard helmets
Wearing protective gear is incredibly important while skateboarding or eskating in general. Wearing a helmet and skateboard pads is the new standard for avoiding injuries on a esk8, so you can kick ass while staying safe. In fact, most group rides require riders to wear pads and helmets upon joining. All levels of experience, from beginners to the pros should wear a esk8 helmet. Nobleman carries just one helmet at the moment but we are working hard to release new ones that offer both safety and style.
To protect your head, ensure that you have a properly measured your head for the perfect fitting helmet. Regardless of the helmet brand you choose, well-fitting skateboard helmets should include protective padding, not shift around while skateboarding, and fit snugly and low across your forehead.
You should replace your skateboard helmet regularly, whenever your helmet looks or feels damaged from use. If you are a young rider, you will need to get a new skateboard helmet when your helmet feels too small.
Measuring your head for a skateboard helmet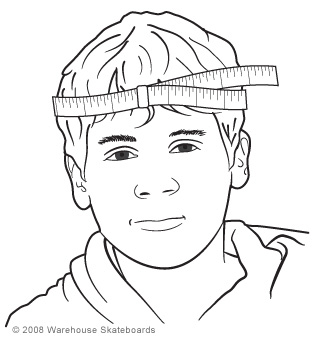 It's important to wear a properly fitting helmet to stay safe on your electric skateboard. The size of your head will determine what size skateboard helmet you should buy. Helmet sizes vary from brand to brand, but having your head size will make it easy to use each brand's sizing chart. Knowing your head size ensures that your helmet will be a good fit, even if you order online.
Measure your head size easily with the following steps:
1. Take a soft tape measure and wrap it around your forehead. It should rest just over your ears and eyebrows, as your helmet will rest low on your forehead. Keep the measure level from the front to back of your head (you can use a mirror or have a friend help you). Don't wrap it too tight or too loose. Record the circumference in inches for US and UK sizing or centimeters for European sizing.
2. If you can't find a tape measure, repeat the above steps using string. Once you have it wrapped properly around your head, mark it and measure it against a ruler.
3. If for some reason you can't measure your head, you should be able to find your head size using hat size. Check the tag on your favorite well-fitting hat--it will give you a rough estimate of the correct helmet size.
Electric Skateboard helmet safety laws
Electric Skateboard helmet safety laws vary, depending on which state you're skating in. Some states mandate that riders under a certain age must wear a helmet at all times. Other states, such as California, have laws requiring all riders under 18 years of age must wear a CPSC-certified helmet at all times. The penalty ranges from a warning to a fine, the amount of which increases with every new violation. Keep in mind that the helmet you choose must meet CSPC regulations, which usually include an EPS protective liner, so check your state's regulations before placing your order. For maximum safety, you should also pick up a full set of electric skateboard pads.
---