4 Best Half Face Helmet For Electric Skateboards, Bikes, Scooters, And EUC
Wearing a safe helmet or a bike helmet is a must when riding your electric skateboard, bike, scooter, and EUC. In case you fall, your head has to be protected from any possible injuries.
For this, you will need a helmet that protects your head while being comfortable enough to wear all day long. You can't wear typical helmets that weigh too much while skateboarding because they would be uncomfortable, and you will get tired of wearing them.
Instead, you need half face helmet that is both lightweight and protects your head. So, here we are going to recommend the 4 best half-face helmets that you can wear when riding your electric skateboard, bike, scooter, and EUC.
We have been testing some half-face helmets for the past few weeks, and according to our experiences, we will recommend some of them.
So, let's get started.
Also Read: Snowboard Helmet VS Skateboard Helmet: Everything You Need To Know
Nobleman's K2 Half-Face Helmet
Detailed Review: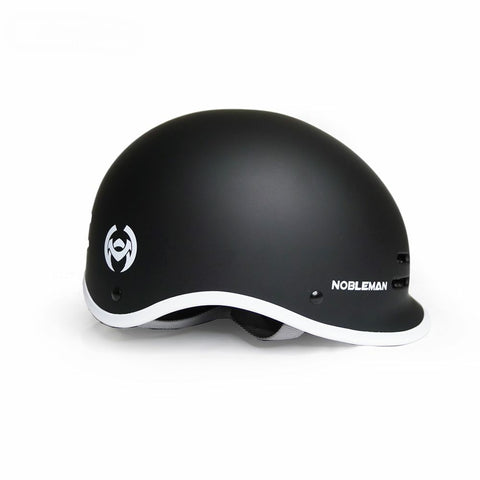 The Nobleman's K2 Half Face Helmet is made of high-quality synthetic materials that make it highly durable and easy to wear in all weather conditions. It's lightweight, safe, and has an aesthetic look and design.
There is high-quality foam material used for inner padding that withstands huge impacts while you are wearing or engaging in an accident. It provides maximum safety to all parts of your head, especially the fragile area, the back of your head.
After testing it for weeks, we have come to the point that it is the most comfortable and lightweight helmet that anyone can wear all day long without tiring their head or neck.
Pros
Synthetic materials are used to make this helmet highly durable and comfortable.
The padding inside the helmet provides maximum safety while it is also breathable, meaning you can stay cool even in hot summer conditions.
Overall, it has a modular design that allows you to wear it in any weather condition.
Cons
It is a little expensive.
Summary
It is a great helmet for those who don't like to weigh their heads but keeping themselves protected is also important. Nobleman's K2 half-face helmet would be the best choice because it is lightweight, comfortable, and provides maximum safety.
OutdoorMaster Skateboard Cycling Helmet
Detailed Review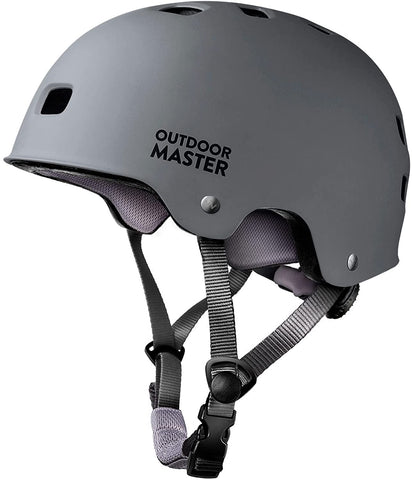 The OutdoorMaster Skateboard Cycling Helmet is made out of high-quality ABS material. It has two removable liners and vents, so you can customize the fit and airflow of your helmet depending on the weather you are wearing.
This helmet is also super lightweight, making it easy to wear while skating or cycling. It's built with high-quality materials, which are durable enough to withstand impact but flexible enough that it won't break and injure yourself if you fall.
As per our usage, it is perfect for everyone who doesn't want to spend that much on a full-face helmet but still wants to protect themselves. The helmet also has an adjustable strap that ensures it stays on your head if you fall.
Also Read: How Much Does a Skateboard Cost? Price Breakdown
Pros
Made with high-quality materials that make it durable for long-term usage.
Padding inside the helmet keeps you cool because of the extra liners and vents you can adjust accordingly.
The comfortable design and lightweight structure allow you to wear it all day long without irritation.
DOT Approved.
Cons
Not suitable for heavy adults because of the compact size
Summary
The helmet looks great and is very comfortable to wear. It's sleek and modern in appearance, which is important to many people because they don't want to look like a dork on the bike path or skate park. So, it is perfect for anyone looking for a decent half-face helmet.
Also Read: Skateboard Helmets Evolve To Electric Skateboard Helmets
JBM Skateboard Half Face Helmet for Adults
Detailed Review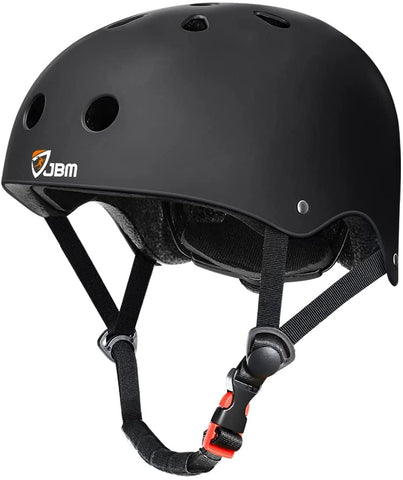 The JBM Skateboard Helmet is one of the best half-face helmets for adults and kids. It's great for skateboarding, scooter riding, inline skating, longboarding, and other sports. The JBM helmet is lightweight and durable.
The inside is lined with soft foam padding to protect your head from bumps and bruises while on the road. It's also easy to adjust the fit with its adjustable straps so you can get the perfect fit every time.
When we used this helmet for long rides, it was very comfortable, and the lightweight structure made it possible to wear it all day long. So overall, it's a good helmet for anyone looking for a decent option.
Pros
It is made with a durable and flexible material that protects and prevents it from breaking in case of an accident.
The helmet has multiple ventilation holes to keep your head cool while riding in hot summer conditions.
The padding and the fabric used inside the helmet are breathable and skin-friendly, so there is no more skin irritation.
DOT Approved.
Cons
Suitable for kids and teens.
Summary
This helmet is perfect for skateboarding, scooter riding, cycling, and even longboarding. So, if you want one helmet that will work with all your favorite activities, that's it.
Tripel Eight Sweatsaver Liner Helmet
Detailed Review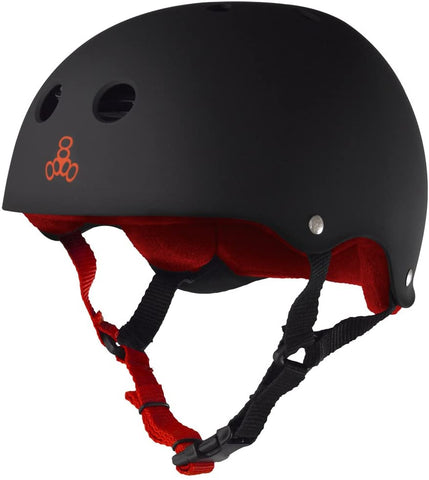 The Triple Eight Sweatsaver Liner Helmet is a half-face helmet with a removable liner. This means you can wear it without the liner when you are skating around town or chilling out at a safe area, and then put it on when you want to go out and hit the ramps.
Also Read: 10 Best Skateboard Wrist Guards That 100% Protect You
It has a comfortable, adjustable fit that makes it easy to put on and take off, no matter how sweaty your head. But, that doesn't mean that it makes your head sweaty; it comes with multiple air vents that allow your head to stay cool and sweat-free as you ride in hot weather.
Pros
Made with high-quality ABS plastic material that is hard to break and provides protection to the head.
Available in multiple sizes and colors.
The fabric used inside of the helmet is moisture absorbent and quick drying.
Cons
Summary
Overall, it's a good helmet for those who aren't involved in intense skateboarding or cycling on rough surfaces. Since it is not DOT approved, you can still use it for inside riding like skate parks, cycle parks, etc.
Conclusion
So, these are the best half-face helmets for electric skateboards, bikes, scooters, and EUC. The above helmets are good according to our usage for a couple of weeks, but the best one is Nobleman's K2 Half Face Helmet. It is specially made for all purposes like you need one for the bike, skateboarding, cycling, etc.
But, it's your choice to choose the one according to your needs and the budget. We hope our recommendation helps you decide on the best one.
---